Introducing:
THE THRIVE BIBLE STUDY VAULT
Daily Audio Devotions Made for Busy Women
Do your home, work, and family responsibilities leave you with no time to spend in your Bible?
You're not alone!
You may not have an hour - or even ten minutes - to spend with your Bible. But if you can listen while you perform your daily tasks, you can still learn and develop a fulfilling relationship with the Lord!
The Thrive Bible Study Vault gives busy women like you a daily dose of Bible time through the convenience of short audio lessons.
Each of our 12 devotional studies allows you to dive deep into God's Word - even when you're on the move - and reap the spiritual benefits of spending time with Him.
Get a Full Year of Daily Devotions!
What Other Women Love about the Thrive Bible Study Vault
"My life is being transformed each day I listen to the Fear Not audio. Fear versus action moved me a lot because I have come to learn that God acts and obeys His own words. This gave me more strength to get into the Word and dig deeper!"
- Maria

"A friend of mine recommended your podcast to me. I am so grateful God placed her in my life and to have found you! I have been struggling the last few months with severe anxiety and your encouragements in positive thinking and taking our thoughts captive have helped me immensely! I look forward to diving deeper into your content!"
- Chelsea
"I wanted to thank you for your words that touched my heart today. God spoke to me and reminded me that I'm not living intentionally for Him. I have written the devotion in my prayer journal and took a screenshot on my phone to remind me of where I am and where I need to be. Thank you for being His vessel."
- Miranda
Look Forward to Daily Devotions that Work with Your Schedule
Having consistent daily devotions is as simple as pressing play! Each devotional study has a month's worth of 3 to 5 minute daily audio lessons that target the spiritual struggles we all face.


And through the free Teachable app, you can instantly access your audio devotions whenever you can listen!


For those who can find a few minutes alone, each study comes with a printable workbook to guide you into a deeper reflection of that day's study.
Check out our full course line up:
First Things First
Do you feel like there aren't enough hours in the day? Many women spend their lives in a constant state of exhaustion and guilt. But the problem isn't how much is on your plate—it's how you prioritize! This month, learn to prioritize from Jesus, the man who ended His earthly life with the words, "I have finished the work You called me to do." When we're done, you'll know how to end each day satisfied because you've done everything you actually needed to.
Journey Through the Psalms
The book of Psalms is full of beautiful lessons written in the form of poetry. In this month-long journey, we'll examine several of these passages to see how they apply to Christians today! As we study Psalms that teach us about gratitude, anxiety, peer-pressure, and more, we'll also learn about our great God and how to appreciate the beauty of His Words.
Stories of Faith
Hebrews 11 is often called the "Hall of Faith." The verses in this chapter are packed with the names of ordinary people who showed incredible faith in God, despite hardships and trials. Every day this month, we'll learn about one of these Heroes of the Faith and see how we, too, can have unwavering faith in our powerful God!
Esther: God's Purpose, God's Way
Have you ever wondered what the purpose of your life is? Do you ever feel like you're not being seen or heard? So did Esther! Yet this incredible woman followed God's plan from obscurity to become a powerful influencer for her people! This study shows us the rewards of following God's purpose for our lives and confirms that nothing happens by coincidence.
Redeeming Suffering
Suffering is inevitable, but it is never without reason. This month, we'll read the inspirational story of Ruth and Naomi, two women who suffered so much loss yet found joy through God's redeeming grace. We'll learn how each woman endured suffering differently, showing that our response to suffering is our choice. But we'll ultimately see that God is always good and worthy of our praise!
Cultivating a Hannah Heart
Hannah is one of the Bible's best examples of true Biblical womanhood. Despite hardships, her life exemplified a heart that was fully tuned in to God's! This study will dive into four remarkable aspects of Hannah's life: her vulnerability about her heart's desires, her willing response to take that desire to God, her unwavering obedience to God's conditions, and how she ultimately lived and modeled grace. Studying and following Hannah's incredible example will help each of us live more like Christ!
Walking in Confidence
So many women struggle with finding their identity in the wrong things. But a worldly view of yourself is based on pride and often leads to low self-esteem and confidence. God never intended for us to seek others' approval—our only source of validation should be Christ! Take this four-week journey through the Bible to discover who you are in Christ and learn to see yourself as He does.
Fear Not: Faith in the Midst of Uncertainty
Life is full of uncertainty, and it can be so hard not knowing how your story ends. But no matter what's happening in your life, God knows exactly what lies ahead! This month, we'll be studying the lives of four people who showed incredible faith in God despite uncertain circumstances. From their notable examples of faith, we, too, can learn to trust God and respond correctly—even when we don't know what our future holds!
The Power of Words
In the book of James, the Bible tells us that our tongue is a powerful tool that can build up or destroy in an instant. Thankfully, it also gives us plenty of good advice on how to tame our tongues! This month, we'll explore a different aspect of our speech every week: how our tongues affect us, how they affect others, why we respond without thinking, and how to be intentional about our words.
Lessons from Eve
Eve: the first person to sin. What a reputation! Yet, how often do we give in to temptation and regret it later? Thankfully, God gives us explicit instructions to overcome temptation. For the next four weeks, we'll examine Eve's mistake and learn how to face temptation with God's Word on our side and an evacuation plan in place!
Just Like Jesus
Does your life reflect the Holy Spirit living inside you? The problem of "living like the world" began long ago with some of the first Gentile Christians in Ephesus. But this is not God's plan for us! We should always be trying to reflect less of the world and more of Christ. With some guidance from the Apostle Paul, this study shows us precisely how a Christlike life will look.
From the Manger to the Cross
The Christmas season is undoubtedly a time to celebrate the birth of baby Jesus. But too often, we forget why He had to come at all! This special Christmas study is designed to help you and your children remember the significance of Christ's birth on His journey to redeem us! It's a wonderful way to focus on the true meaning of Christmas while introducing your kids to God's plan of salvation!
Hey there, I'm Ashley!

As a Bible teacher and Certified Christian Life Coach, I help busy women (just like you!) revive their relationships with God by renewing their minds and experiencing God's peace. In the Thrive Bible Study Vault, we'll go on a journey together. I'll teach you a way to study the Bible that fits in your schedule and goes with you all day.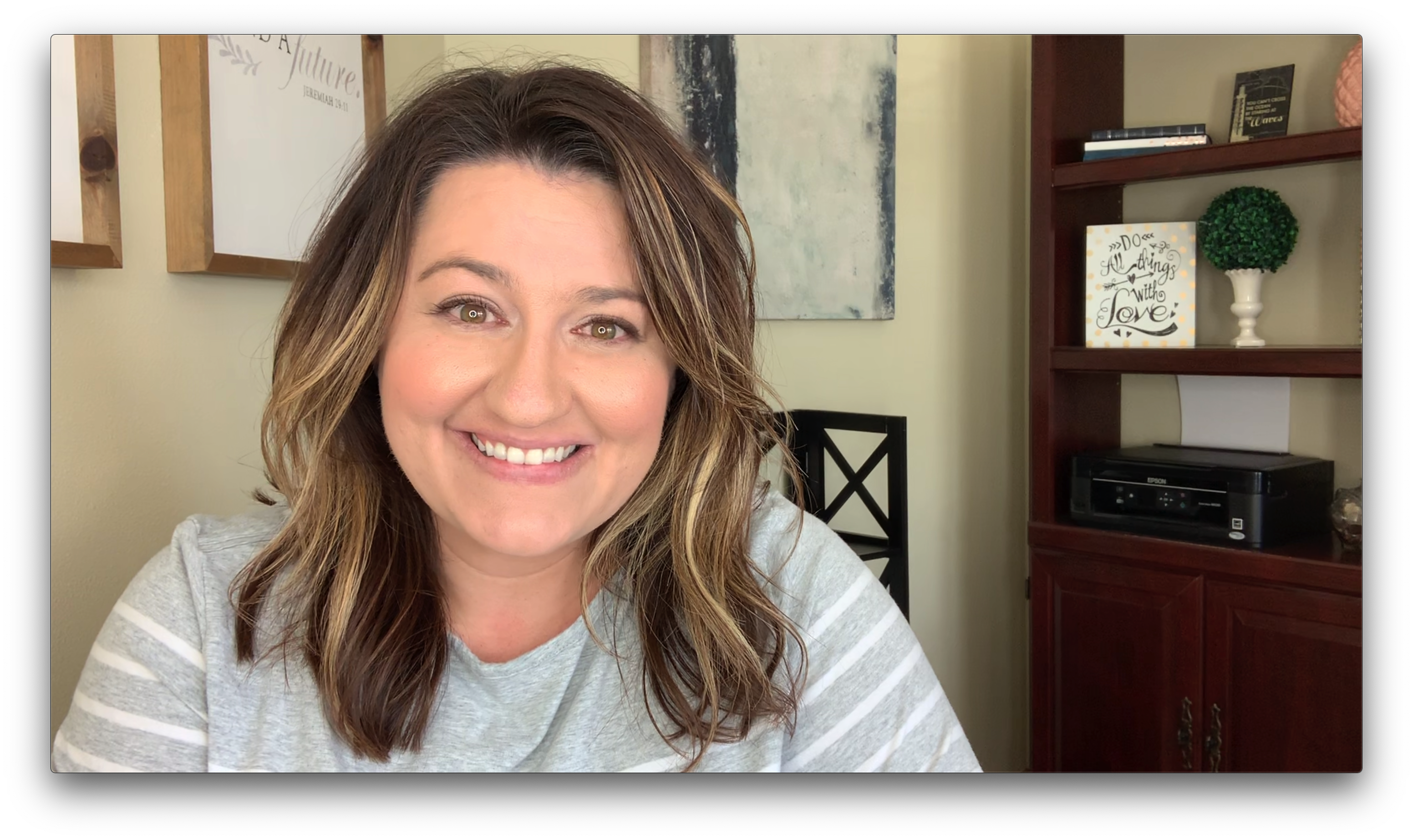 We want to make it easy for you to have your devotions every day this year, so we're offering all 12 devotional studies in the Thrive Bible Study Vault!
Better yet, the Thrive Bible Study Vault comes with two bonuses! In addition to all 12 Bible studies, you'll be able to access our Christian Life Coaching and 6-Part Marriage Course videos!
The Christian Life Coaching videos are designed to help you live your best possible life by covering topics like relationships, goal setting, and even your finances.
The Marraige course videos target the common problems that couples face and show you from God's Word how to love your spouse unconditionally and move your marriage forward.
These exclusive videos are ONLY available in this bundle!
It is possible for you to spend time with God every day and grow through His Word! Our short, straightforward audio lessons fit into even the busiest routines while making a powerful impact on your spiritual walk.
And with instant access to all the studies you purchase, you can start experiencing a deeper walk with God today!
Are you ready to start thriving?