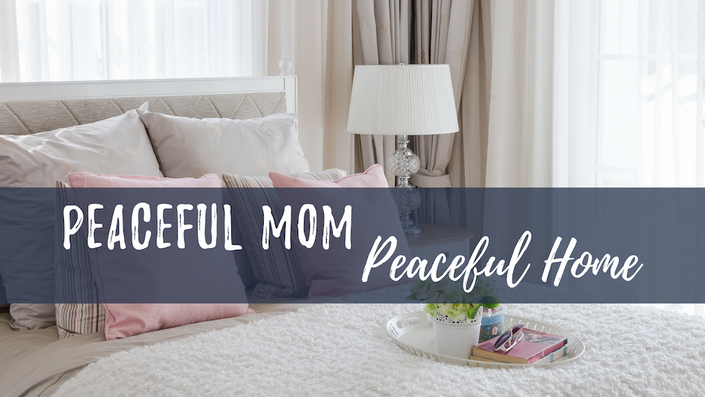 Peaceful Mom, Peaceful Home
Say Goodbye to Chaos with Simple Systems for a Peaceful Home
Is the chaos of motherhood choking out the joy? I want you to know that it doesn't have to. There is a simpler way.
A joy-filled, peaceful home is achievable and together we can make it happen.
It's time to take control of your time, to take care of yourself, and to love your family well.
This is for you, if:
You feel more stressed than blessed

You are overwhelmed and distracted by the chaos

You are missing out on the special childhood moments because of never-ending-to-do-lists

You are to busy to enjoy the relationships in your own home

You are at a loss to show love to your kids and husband


You are at a loss on what Christian self-care looks like for moms
But with this program, you can:
Turn your chaos into joy

Make your home a safe, peaceful haven

Build cherished memories with those you love most

Carve out moments for self-care, without a heavy price tag

Take back control of your time
Introducing
Peaceful Mom, Peaceful Home
The Mom-Friendly Guide that will take you from a chaotic house and crazed parenting style to a joy-filled and purposeful home and family.


Here's what you'll get:
A house that becomes a place you can't wait to come home to. Let me help you make your home a place of joy, comfort, rest and love.
A Downloadable Workbook
This 12-page resource includes:
A worksheet on finding purpose for your family

A how to guide to determine your priorities and find balance

A list of recommended resources

Pre-written prayers to pray over your home

Actionable ways to display the 5 love languages

Date night ideas

A self-care guide


Audio and video lessons on:
Creating a family mission statement. An audio lesson and worksheet created to guide your family in creating a mission statement. This is a group project where together you will discover and write out your family purpose as you keep your eyes on Jesus.
Getting organized with Trello In this video tutorial, Ashley takes you behind the scenes to how she organizes her life, work, and home with Trello. (This lesson also includes template boards so you can get started right away!) Trello.com is a free web-based task management system that can include multiple people, has an app for your phone, and great integration features.
Minimalism for Moms. This is a video tutorial (using trello) with step by step guide to getting your home peaceful and calm. Minimalism doesn't have to mean stark white walls and nothing in sight. This tutorial is for moms who want to stop picking up toys and start enjoying their kids childhood more.
How to Simplify your calendar. An audio lesson with resources on the best calendar apps and pencil-and-paper options for simplifying your calendar. Learn how to say no to commitments that don't line up with your priorities
Simple meal planning. In this video tutorial (using trello again!) discover how you can plan a variety of meals, check off ingredients you already have in your pantry, and create a smaller list to take to the grocery store. This system also helps you rotate meals simply so you're not always making the same spaghetti or chicken and potatoes recipe.
Building your marriage. A peaceful home begins with a strong marriage. Ashley shares from personal experience how her and her husband make decisions together while strengthening their relationship with Christ. Ashley works side-by-side with her husband in business everyday (including leading a team of over a dozen people), serves beside him in ministry (she as the worship leader, he as the sound/media coordinator), and in parenting children together.
How to cover your home in prayer. Learn prayers with verses for you to pray over your home so it can be peaceful, not just for the purpose of decluttering, but peace from the heart
Taking Control of your time. Listen to this audio lesson to discover tips on delegating and how to make the most of your time. Here you will find productivity hacks and unapologetic tips for teaching your children to help out around the house
The importance of self care. Ashley shares her experience of putting herself last and what happened when she began paying attention to her self-care, social, mental, spiritual, and physical needs. This section includes a much needed list of self-care ideas on a budget
Program Line-up
Welcome to Peaceful Mom, Peaceful Home
Available in days
days after you sign up
Peaceful Mom, Peaceful Home
Available in days
days after you sign up